10 things to see in Turin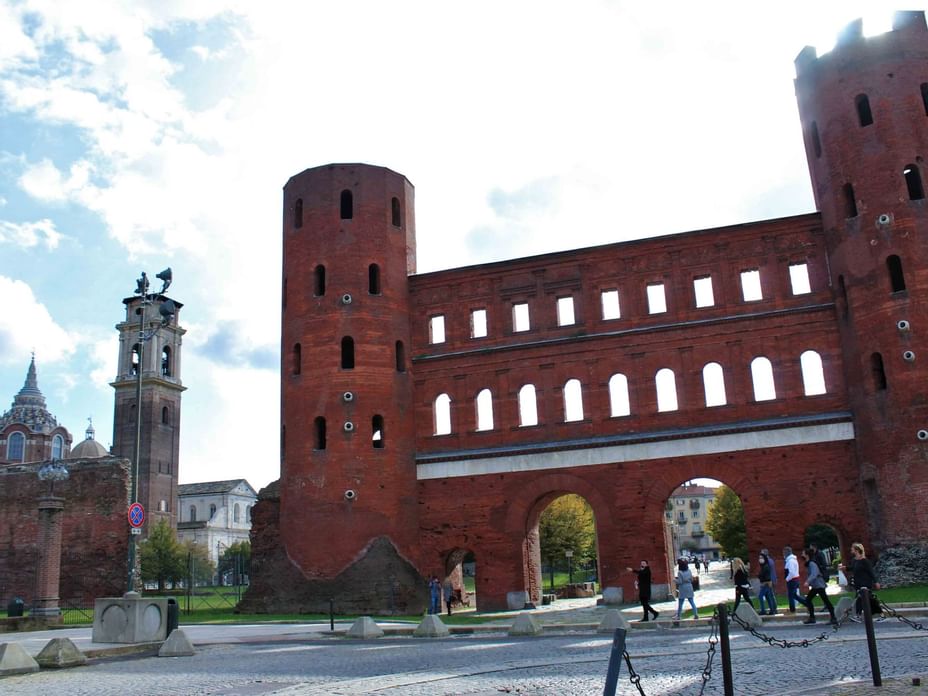 Turin is a magnificent city with which I have a very close bond, having lived there for three years. I know it fairly well, and every time I go back it never ceases to amaze me!
As if its breath-taking squares, more than 40 museums, monuments and churches, historical palazzos and old cafés weren't enough, its setting, surrounded by the Alps, is truly stunning.
As Italy's first capital city, Turin's outstanding heritage is a marvel waiting to be discovered!
So, if I've whetted your appetite at all, let me "show you around" the capital of Piedmont, particularly the city's 10 things to see in Turin.
10 things to see in Turin
Things to see in Turin: Mole Antonelliana

An eclectic masterpiece by Alessandro Antonelli, the Mole Antonelliana is Turin's number one symbol. Its spire can be seen poking up between buildings and rooftops all across the city. First built as a synagogue, the Mole was later bought by the City Council and transformed into a national monument. Measuring 167 metres in height, its panoramic lift takes visitors up to an 85m-high viewing deck offering spectacular vistas of Turin. The building houses the National Cinema Museum dedicated to the history of film-making and motion pictures, its extensive exhibition spiralling upwards across several floors.
10 thing to see in Turin: the Mole Antonelliana, the symbol of Turin
Thing to see in Turin: Piazza Vittorio
The historical Piazza Vittorio, surrounded by arcades studded with bars and cafés, is set within the splendid backdrop of the Turin hills. It is here that crowds gather to sample the city's famous "apericene", or cocktail buffets. Being one of the largest squares in Europe and the largest in Turin, it hosts numerous events, shows and concerts, as well as the festivities to celebrate Saint John the Baptist, the Patron Saint of Turin. Opposite Piazza Vittorio stands a small church, with a long staircase leading up to the entrance, that resembles a little temple. This is the Chiesa della Gran Madre di Dio, or the Church of the Great Mother of God. I suggest you walk up its staircase for a splendid view of Piazza Vittorio and of Turin's skyline.
Thing to see in Turin: Parco del Valentino
Undoubtedly one of the 10 thing to see in Turin, the Parco del Valentino is a large green area, situated on the banks of the River Po, offering a breather from the routine and traffic of Turin. A paradise for joggers, it's bars, benches and grass lawns are ideal for relaxing, reading a good book or sunbathing in the hotter summer months. Here you will find fountains, statues, squirrels, and greenery in abundance. The Valentino Castle, once a residence of the Royal House of Savoy, is now home to Turin's Faculty of Architecture. The evocative Borgo Medievale, a faithful replica of a medieval village complete with drawbridge, workshops, printing works and fortress, is a definite must-see. And actually, the DUPARC Contemporary Suite, the hotel where I stayed during my weekend in Turin, is just round the corner from here.
10 things to see in Turin: the Valentino Park, a large green area located on the banks of the river Po
10 things to see in Turin: the Valentino Park is near the Duparc Contemporary Suite, the hotel I stayed in during my weekend in Turin.
Thing to see in Turin: Monte dei Cappuccini
Monte dei Cappuccini is a hill near the Vittorio Emanuele I bridge, at the entrance to Piazza Vittorio Veneto. It may be reached either on foot, walking up the hill for about one kilometre, or by car or bus. Either way, it's well worth a visit! This is the very best vantage point from which to admire Turin's magnificent skyline and take memorable shots. On the hill stands the Church of Santa Maria del Monte and the Capuchin Convent, with their beautiful paintings and marble altars.
Thing to see in Turin: Porta Palatina
Porta Palatina offers the most striking evidence of Turin's Roman past. This imposing gate, featuring two 30-metre tall towers, provided access to the Roman city from the North. Nearby stand two copies of bronze statues depicting Julius Caesar and Augustus, positioned here during the restoration work conducted during the fascist regime. Porta Palatina forms part of a fully restored archaeological area, inclusive of a bulwark similar to one that Napoleon Bonaparte had demolished in 1800.
10 things to see in Turin: the Porta Palatina, one of the testimonies of Turin's Roman era
Things to see in Turin: Piazza Castello and the Royal Palace
Piazza Castello, at the very heart of Turin, stands out for its extraordinary elegance. Converging onto this square are the city's major shopping streets, Via Garibaldi and Via Roma, with their prestigious brands and labels. Piazza Castello is home to several of Turin's most interesting attractions, all of which are well worth a visit, such as Palazzo Madama, Teatro Regio (one of the largest theatres in Italy), Chiesa di San Lorenzo, and the Royal Palace, which forms part of the circuit of Royal Museums of Turin.
Things to see in Turin: Turin Cathedral
Built in the late 15th century, the Cathedral of St. John the Baptist is the main place of worship in Turin. Since 1578 it has hosted the Holy Shroud, which is "hidden" away in a shrine except on public showings arranged by the Pope. A copy of the shroud is placed over the shrine for everyone to see, free of charge. On the high altar, you can admire a gigantic copy of Da Vinci's Last Supper, commissioned from the painter Luigi Cagna by King Charles Felix. Finally, the lower church hosts the Diocesan Museum, with its rich historical and artistic legacy.
10 things to see in Turin: Piazza Castello with Palazzo Reale, part of the system of the Royal Museums of Turin.
Things to see in Turin: Piazza San Carlo
Piazza San Carlo, or "Turin's living room" as the locals refer to it, stands out for its refined seventeenth-century architecture. Particularly worthy of note are two twin Baroque churches, one dedicated to Saint Charles Borromeo and the other to Saint Cristina, and the equestrian statue of Emmanuel Philibert at the centre of the square. Several noble palazzos overlook this square, as well as a number of historical cafés, such as San Carlo and Caffè Torino. Enjoying a cup of coffee in one of these bars is a real must!
Things to see in Turin: Egyptian Museum
The Egyptian Museum is a real must in Turin, and it would be a great shame to leave without having seen it. It is the oldest museum of Egyptian antiquities in the world and has 3,300 artefacts on show (out of a staggering total of 40,000). The exhibition unfolds across 4 floors, and trust me when I say that some of the rooms and floors, such as the Gallery of Kings, will take your breath away. The museum retraces 4,000 years of Egyptian history and is full surprises. I assure you, you will not get bored. I know that I, for one, will remember this fascinating experience for many years to come!
10 things to see in Turin: Egyptian Museum, it's a must in Turin, you can't leave without seeing it
Things to see in Turin: Basilica di Superga
Bringing up the rear in the list of Turin's 10 best must-visit attractions is the Basilica of Superga, which stands a little outside of town but in my opinion deserves a visit. Built on the hill of the same name to the north-east of Turin, its square offers exceptional panoramic views of Turin. But that's not all. The Basilica itself is a majestic building built in Baroque style by Filippo Juvarra. Inside, it features several altar paintings, six chapels and four altars, embellished with statues and monuments in Carrara marble. You can also climb to the top of the dome for stunning views of Turin and of the mountains and valleys beyond, or visit the Royal Apartment and the royal tombs of the House of Savoy, located in an evocative crypt. Do take the time to take in the Basilica of Superga, you won't regret it!
Clearly, Turin has many more churches, museums, monuments and squares to offer the visitor, but I hope this list has cleared your mind about the city's must-sees, especially if you can only pay a fleeting visit. Because, as we all know, life is full of hard choices ;-)
WRITTEN BY: Lucia Nuzzaci, Souvenir di Viaggio