What to do in Turin when it rains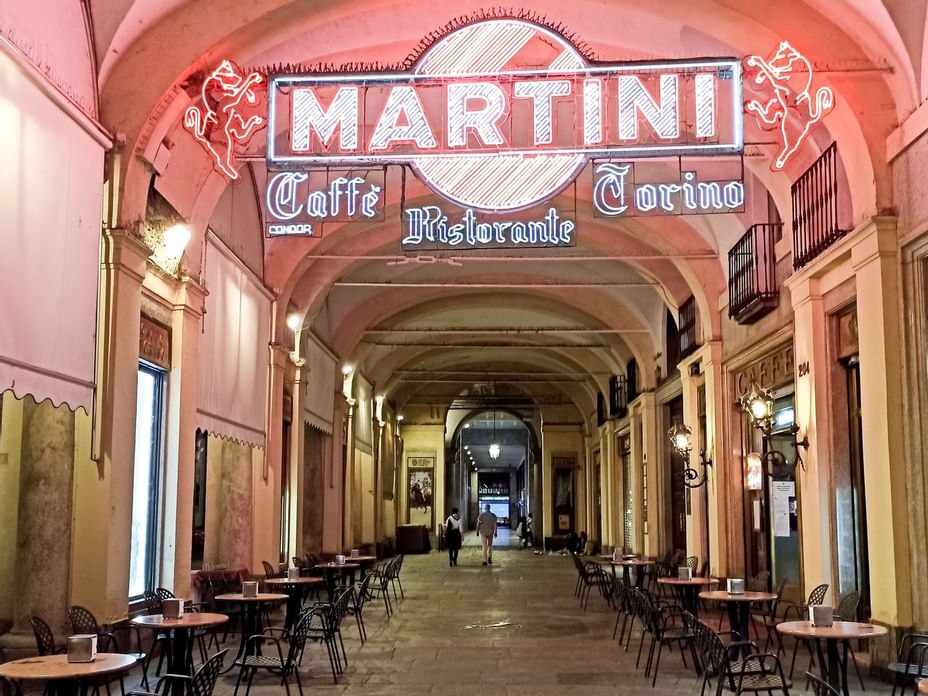 There is a vast number of films and shorts dedicated to cities and metropolises in the rain, but still none about Turin. And it's a shame. Because Turin in the rain is an experience just waiting to be lived. And now, as the climate changes, rain is no longer isolated to those long, wet autumn days, especially in November. A tropical shower can catch you unawares on a spring day, and in the summer it can rain heavily for several days at a time, perhaps not all day long but for a good part of it. For this reason, if you live in Turin or are visiting as tourists, it's always a good idea to have a back-up plan in any season. And an umbrella, of course.
What's certain is that a large part of the city, especially in the centre, seems to have been built to welcome travellers taken by surprised by a sudden storm. And the city offers such a wealth of museums and sheltered activities that, whether travelling with adults or children, you'll never get the chance to be bored.
Where to walk in Turin when it rains
The porticoes in the rain
When it rains in Turin, look for shelter under the city's porticoes. Tall, wide and elegant, life here goes on even in inclement weather. Just take refuge in their beauty and you can continue strolling around undisturbed.
Turin's porticoes date back a long time. The first were designed in the 17th century by Ascanio Vitozzi, in Piazza Castello. To these were added, in the 18th century, the porticoes of Via Po and of the Royal Garden, designed by the architects Carlo and Amedeo di Castellamonte. Those in Piazza Vittorio Veneto, Piazza Statuto and Piazza Carlo Felice, instead, are from the 19th century. As the centuries went by, the number of porticoes increased, becoming an integral part of the urban fabric.
The route connecting the stations Torino Porta Nuova and Porta Susa Station is nothing short of a pedestrian ring route covered by porticoes, offering a beautiful long walk, even in bad weather. Today, Turin's porticoes are18 km long and comprise astonishingly sumptuous ones, like those in Piazza San Carlo, as well as simpler yet equally fascinating ones. Life under the porticoes bustles with busy bookshops, antique dealers, historical cafés, ateliers…all of which are within easy reach, even in the rain.
There's a local anecdote linked to the rain and the porticoes of Via Po. If you walk along Via Po, leaving Piazza Castello behind you, you will notice that the porticoes are not the same on both sides: the ones on the left are completely covered, also at the crossroads and pedestrian crossings. This is because King Victor Emanuel I of Savoy had them covered over to allow the royal family to reach the Chiesa Gran Madre di Dio without getting wet when it rained.
Since then, the royal family and the people of Turin have always taken advantage of the porticoes on this side of Via Po to avoid the rain!
Where to walk in Turin when it rains: walk under the arcades of Via Roma
Sheltering in Turin's arcades
What could be better than to take shelter in a cosy, sparkling shopping arcade? Along the porticoes, hidden by streets and avenues and surrounded by the city's regal, bustling squares, stand Turin's three arcades, each more distinctive than the last.
The ideal place to shelter from the cold and rain, they used to be frequented mainly by the city's aristocracy and the bourgeoisie, who would gather here to stroll.
The Galleria Subalpina, accessible from Via Po and sandwiched between Piazza Castello and Piazza Carlo Alberto, is a real treasure chest, built in 1873 by the architect Pietro Carrera. Be warned: it is impossible to resist the charm of this place.
The Galleria San Federico, perhaps the most elegant of the three, was built in 1933 and bombed several times during the second World War. It connects Piazza San Carlo with Via Roma and Via Viotti.
Standing close to Piazza della Repubblica, in the Aurora district, and to the famous and colourful Porta Palazzo market, the Galleria Umberto I is the city's most popular arcade. Its history is linked to that of the old Ospedale Mauriziano, which stood here for over three centuries, until it was moved to Corso Turati in 1884.
Where to walk in Turin when it rains: shelter in the Galleria Subalpina
When it rains, visit one of Turin's cinemas
If, when it rains, you don't fancy strolling under Turin's porticoes or in its arcades, you can always choose to spend the day at the cinema. The city centre's historical cinemas are very popular, especially on winter weekends, when the cold brings the locals to spend their free time indoors.
The city boasts numerous old-fashioned cinemas, hidden behind the porticoes and in the arcades, offering interesting arthouse and foreign-language films - places that have made the history of cinema, not only in Turin but internationally.
There's the Cinema Nuovo Romano, in the Galleria Subalpina. Inaugurated in 1911, it was built on the site of the former Caffè Concerto Romano and the old Lumière picture house. Today, it is the oldest cinema in Turin.
Cinema Lux, in the Galleria San Federico, was designed by the architect Eugenio Corte in 1934 under the name of Cinema Rex. During the Fascist period, it took on the name of Dux [the Fascist leader Benito Mussolini was known by his followers as Il Duce], and only in 1945 did its name change again to the current Lux. With nearly 1600 seats, it was one of the most modern and spacious cinemas in the city.
Also to be mentioned among the cinemas that made the history of Turin is the Cinema Classico. It is situated under the porticoes directly overlooking Piazza Vittorio Veneto, near Caffè Elena. It opened as a single-screen cinema in 1913, first named Cinema Impero and later Vittorio Veneto (1942) and Empire. A curious fact: Cinema Classico was an adult movie theatre from 1979 to 1989.
Close to the Mole Antonelliana stands Cinema Massimo, a single-screen hall opened in 1934 with a capacity of 1000 seats. It was heavily bombed during World War II and later rebuilt. Since the late 1980s, Cinema Massimo has been managed by Turin's National Cinema Museum.
Where to walk in Turin when it rains:visit the Cinema Lux into the elegant Galleria San Federico
A hot chocolate to while away the time while it rains
After the cinema, what better way to wait for the rain to stop than to go for a snack? Chatting about the film you've just seen over a nice hot chocolate and a slice of cake is an absolute must. You can opt for one of the city's many historical cafés, or for a more modern chocolate or cake shop. Here are some addresses to remember:
Caffè Torino
Opened in the early 20th century, Caffè Torino overlooks Piazza San Carlo, known fondly as "Turin's living room". Inside is a feast of marble, chandeliers, mirrors and…Gianduiotti chocolates!
Address: Piazza San Carlo, 204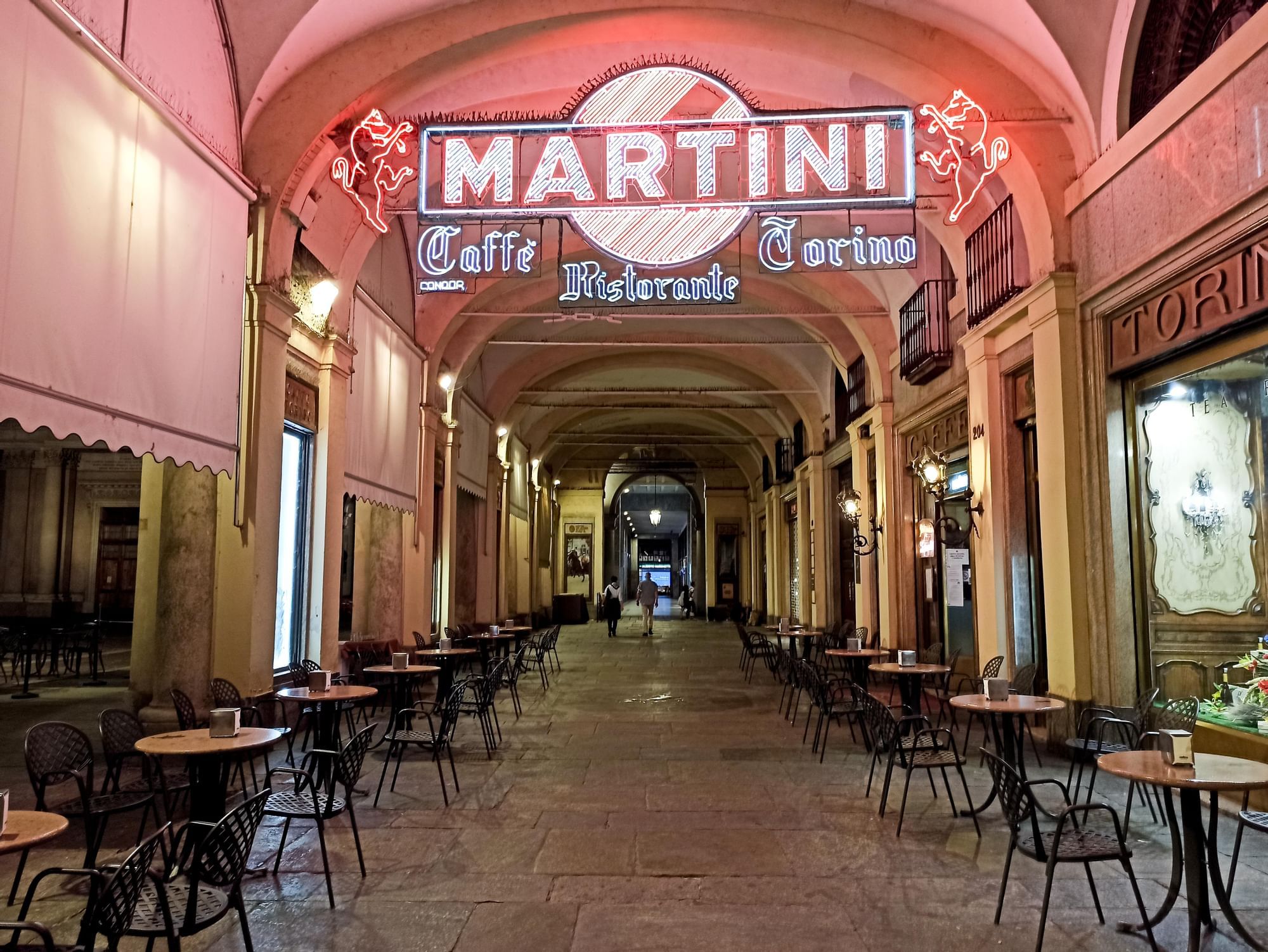 Where to walk in Turin when it rains: enjoy a hot chocolate into the hystorical Caffè Torino
Caffè Platti
Established in 1875, over the years this café has boasted many famous loyal customers. Like whom, I hear you ask? Cesare Pavese and Luigi Einaudi, to name just two. Whether you prefer sweet or savoury foods, Caffè Platti caters to every taste with its delicious sandwiches and pastries.
Address: Corso Vittorio Emanuele II, 72

Caffè Confetteria Baratti & Milano
This is a must-see destination after visiting the Galleria Subalpina or watching a film at the Cinema Romano. Opened in 1875, Baratti & Milano was a purveyor to the royal family, earning the café its outstanding success over the centuries. This is the perfect place in Turin in which to sip a hot chocolate on rainy days.
Address: Piazza Castello, 29

Where to walk in Turin when it rains: make a stop at Baratti & Milano in the Subalpina Gallery
Caffè Confetteria Al Bicerin
Opened in 1793, this historical café's patrons come here above all for its famous 'Bicerin', a hot drink made from coffee, chocolate and cream sweetened with syrup. This café too boasts many loyal illustrious guests, such as Giacomo Puccini, Camillo Benso and Friedrich Nietzsche. Caffè Al Bicerin has been used several times as a film set.
Address: Piazza della Consolata, 5


Prodotti Gianduja Torino Cioccolateria
Prodotti Gianduja Torino Cioccolateria for over a century, this family-run 'Cioccolateria' has been producing Gianduiotti chocolates for its own shop, where you can taste eight different varieties, and on behalf of third parties. Their list of customers is top secret! A break in their cosy, relaxing café, where they also organise book presentations, is a balm for the heart and soul.
Address: Via Palazzo di Città, 24

Where to walk in Turin when it rains: taste the gianduiotti of Profotti Gianduja Torino Cioccolateria
Torteria Olsen
Torteria Olsen is a small venue in a side street off the busy Via Garibaldi. As soon as you set foot inside, you'll feel like you've wondered into an art gallery. All the cakes, whether sweet or savoury, are wholesome and handmade, and can be washed down with a wide selection of teas and infusions.
Address: Via Sant'Agostino, 4 B

WRITTEN BY: Elisa Midelio, Viaggiare con Serendipità